If you're one of the over 40 million people who participate in vehicle camping, you know camping has its perks, especially when you're using an RV. Every time you set off, you there are tons of adventures in the waiting.
But having fun is not just about seeing new sceneries. It's also about being able to use those CB radios, satellites, the TV, the heater, the washing machine, and whatever other electronics you have in there.
Oh, and you don't want the food in the refrigerator to go bad!
And you know what the common factor is in all that? - power! Stable, clean, and reliable DC power to run these electronics.
That's where a power converter comes in.
If your power system involves batteries or power banks, a power converter is an extremely important device to have.
While shopping for a suitable model, you might have heard about the PowerMax PM4. Or perhaps not. This is one of the most popular converters, especially among RV owners.
I am going to tell you about the PM4, so you know what benefits and challenges it presents. That way, you'll be in a position to make an informed decision whether or not to purchase it.
Let's dive in.
Our Powermax PM4 Review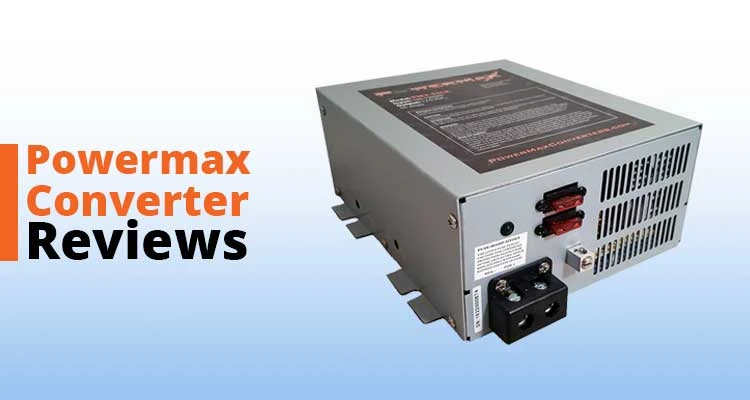 Type of Charging
As the title suggests, this power converter comes with a battery charger. But there are different types of chargers, so what type is this one?
For starters, a charger might be a trickle. This type preserves battery life as it doesn't put stress on it, but then it can take forever to fill a battery.
Again, a charger can be fast, but then, it can easily put stress on the battery, thereby reducing its life. In some scenarios, the battery can even explode.
Now, the Powermax PM4's charger is a 4-step unit that utilizes different charging levels.
Yes, it is rated to supply 100amps, which is high, but that's not what it supplies all the time. As it is a smart 4-step unit, it senses your power needs and supplies what is needed.
The four steps are:
Bulk - supplies 14.7V when the battery is empty or almost empty.
Absorption - 13.8V - this is the average rate of charging.
Float - 13.2V when the battery is almost full
Equalization - set to override the float stage once in a while. This extra stage is great for lead acids and it actually extends battery life.
Talking of the amperage, if you think 100amps are too many for you, there are five other amperage options, from 35amps to 75amps when you buy from amazon. The lower the amperage, the lower the price.
Wattage
Wattage is a measure of electrical energy. This factor matters a great deal because it says whether or not the converter can cover your energy needs.
When looking for the best RV converter, you got to first calculate your RV's energy requirements in terms of watts. Take the major electrical devices like the TV, refrigerator, satellites (if you got some), and heater.
Don't worry about the heater's huge energy requirements, you don't always need all the electronics on at the same time.
After that, see whether the converter meets your energy needs.
The PM4 gives you 1440 watts. That's not huge but it'll do for the average RV.
Overload and Thermal Protection
Temperature and overload are two things that can wreak havoc. Even if you're using a solar and not a power generator, there's still some risk of a fire erupting when there's either power overload. There's also the possibility of damage to the battery.
That is why safety features matter when looking for a power converter.
The PM4 has overload protection. This one senses when there's excess power flowing through the wires and makes adjustments to tone it down or even shut down the charging system.
It also comes with sensors to keep the temperature from increasing profoundly. Besides, it has a cooling fan to keep the unit from getting hot.
Still, on the safety, you might be delighted to know that the PM4 is UL-approved. That's a good mark of quality.
Noise
Converters usually come with cooling fans to keep the temperature down.
While its good to keep the heat level in check, you got to watch that noise. A cooling fan that won't let you sleep is no good.
Thankfully, the PM4's cooling fan runs relatively quietly. You most def can sleep with it running.
Powermax converter installation video:
Pros and Cons of The Powermax PM4 Converter
Pros:
Smart charger - provides power based on your needs
Able to prevent the reverse flow of current from the battery
Comes with thermal and overload protection
Built-in fan for cooling
The fan runs relatively quietly
UL-approved - the mark of safety
Heavy-duty construction - durable
Cons:
A little tricky to install
Final Word for Converter Buyers

If your power system uses a battery, a converter is an extremely useful device to have, whether you use a power generator or solar panels.
This device makes certain that clean DC power is supplied for your electronics to use.
Now, if you're looking for the efficient converter for RV, the PowerMax PM4 is one unit I can say is unlikely to let you down.
It features robust construction and again, it is designed for high efficiency. It also comes with features to extend your battery's life, such as overload protection and the 4-step charging design.